JOHN FAIRLEY'S VIETNAM
THE STORY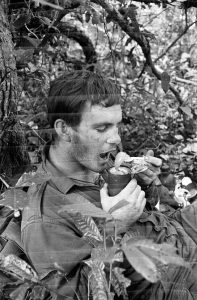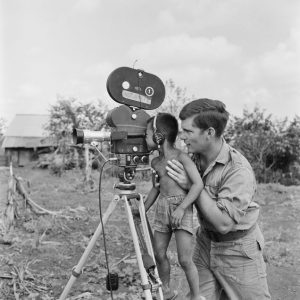 Click this link to view John's story on the Australian War Memorial website
Click this link to watch Johns interview with the Australian War Memorial on YouTube
Read John's Story – Written by Illawarra Mercury's Senior Journalist Ben Langford – Published in the Illawarra 23 April 2022
C
ity of Wollongong RSL sub Branch member John Fairley travelled the entirety of South Vietnam as an army photographer during Australia's time at war there. Much of his body of work remains unseen.
John Fairley has featured in multiple exhibitions at the Australian War Memorial, with his work documenting the war in Vietnam as an official army photographer.
But while war could bring focus and drama to photography, this gently spoken Wollongong 75-year-old said he didn't find the experience a thrill.
"I shot cine (film) as well as stills. When I was in Vietnam, any footage you saw was our footage of the Australians at war – it was the first TV war.
"I did seven months in Northern Command in Brisbane, then a regular soldier broke his leg. I wasn't ever down to go to Vietnam. Then in Canberra they asked if I'd go – I said no because my father wasn't well, and they said you're going anyway. So I went through the jungle training centre at Cunungra, then I was off to Vietnam."
"We were Army Public Relations. We spent most of our time with different combat units. It was mostly to try and take 'Homeboy' pictures – you tried to pick a Digger that was from a country town, send it to the local newspapers, and it was more or less guaranteed when it was sent to that town, it was published, and that was good publicity for the army. But if something happened when you were out with the Diggers, you obviously took other photos.
"We carried a weapon, normally a 9mm pistol. If I was out with the Australian Army training team on an exercise I would carry an (assault rifle), when I was down in the Mekong Delta I carried an M79 grenade launcher.
"You were on big operations, you were on jungle patrols. We moved around a lot. Helicopters were like our taxi. We jumped on a chopper going in on a resupply (mission), with food, ammunition … normally the next resupply would be four days later so we'd come back out on that.
"We did our own thing as well. I travelled nearly everywhere in South Vietnam. We had a job where I had to photograph fire support bases up north, near the DMZ (the border between North and South Vietnam). I travelled most of the country, and it was a beautiful country. There were plenty of bomb craters around – in the wet season they would just be big dams."
His pictures were used for the 50th anniversary of Operation Hammersley in 2020 at the main entrance to the Australian War Memorial, while a solo exhibition of his work titled Point Shoot Click was also displayed that year.
Many of his photographs would feature Australian soldiers with South Vietnamese villagers, befriending children, trying to win the hearts and minds of the country, as some collages of his work will show at the City Diggers display on Anzac Day.
"That was the idea – hearts and minds. I made two collages. One was of the soldiers, one was of the children. It was like 'where are they now?' Did they come out here as boat people, or did they step on a land mine? I have a lot of photos of kids. You may have seen one where two Vietnamese children are arm-in-arm with a Centurion tank going past."
Some of Fairley's clearest memories are from when he was covering the movement of Australian troops into the hill tribe areas in central west Vietnam.
Those people, known by the West at the time under the umbrella term Montagnards (mountain dwellers), fought with the Americans and Australians and were often paid to do so. Fairley's photography shows when the Australians first engaged with some villages, as well as weapons training that followed.
"That particular village, it was quite interesting. We had to fly north from Hue and I had to photograph every American fire support base. We flew on a spare chopper, we had to call in twice and pick up bodybags because they were so busy. It was so different with the Montagnards – they'd cook your ration bags for you, they dug you your shell scrape where you jumped in.
"At first light it was so misty and so spooky. We moved in, and it was a Viet Cong village. All the women were topless, pounding grain, the men wearing loincloths, it was probably the most unusual experience I've ever had.
"They were the best blokes, they were the most amazing people. I have 32 photos from there that haven't been scanned yet. It would be quite interesting to do the series."
But even as a photographer, he said it wasn't a thrill.
"Not when you were there. I counted the days till coming home. And then of course Vietnam vets were treated like crap – 17 years later we had a welcome home parade.
"I went to my first Anzac Day four months after I came home. My father had died three weeks before. He was a Second World War veteran, my grandfather was 1st Light Horse, so I'm a third generation returned serviceman. All I wanted to do was have an Anzac Day with my father.
"I was a member of Kogarah RSL. I went in to Martin Place on my own. I had my suit on, my medals on, and I just watched the day. I felt like a beer at my RSL club where I was a member. I watched people walking in in front of me – not ex-servicemen. I was refused entry. My hair was over my collar. Until the welcome home parade, I had nothing to do with the RSL for years.
"That's changed now – it's brilliant. I love talking to the young blokes; that didn't really happen to us for years. Peter (Lipscomb) phoned me two years ago to tell me I was a 50-year member of the RSL. I hadn't been going since Port (Kembla) RSL closed. So I started going again, as I thought I'd better go get the certificate, and I found I was mixing with the young blokes, and I just love being in the RSL now. Anyone who's young who's a vet should join.
"There's been a number of exhibitions at the War Memorial. I didn't even feel like I'd done much, but now that my photos are part of military history, it changes everything. I'm so proud of them." iLLA